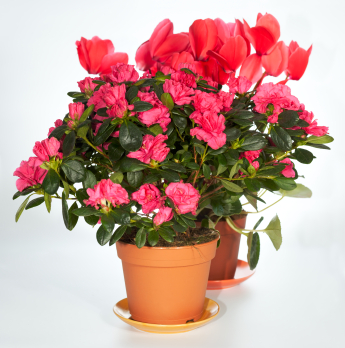 After searching to find just the right plants to put in your home, you probably want to do everything you can to make sure they live long enough to show off to all of your friends! It's not as difficult as you may think to keep your houseplants alive and kicking. With the proper care techniques, extending the life of your indoor plants can be a cinch.
Tips for Keeping Your Indoor Plants Alive
Plant your indoor plants in clean pots. Plant them at the same level they were planted in their nursery containers to avoid root rot and any nasty fungal diseases.
Place your indoor plants where they will have ample sunlight. Position houseplants marked "Full Sun" within 4 feet of windows so they can get at least six hours of direct sunlight every day. Place "Partial Sun" plants 4 to 8 feet from windows that will provide them with at least four hours of indirect sunlight each day. Place indoor plants marked "Shade" in places that receive no more than four hours of indirect sunlight per day.
Keep indoor plants at least 6 feet away from heaters, air conditioners or drafts so that they don't experience any heat or cold damage.
Water your indoor plants regularly to keep the soil evenly moist. Let the top 1/4-inch of soil dry some between watering to keep from over-watering your houseplants. For optimal results, water your indoor plants with room temperature water.
Place a cool mist humidifier in the room with your indoor plants to give them much-needed humidity. I you don't have a cool mist humidifier, you can mist your houseplants daily with room temperature water from a spray bottle.
Maintain the temperature of your home between 60 and 75 degrees Fahrenheit during the day to provide a welcoming growing environment for your plants. Lower the temperature by 10 to 15 degrees at night to give your plants the cooler night temperatures that your plants would have outdoors.
Fertilize your indoor plants with a half-strength dilution of balanced, water soluble fertilizer once a month while the plants are actively growing. Use the houseplant fertilizer according to the label to avoid over-fertilization.
If you accidentally overwater your indoor plants and they develop root rot or some other form of fungal disease, use Pure 3-Way as a treatment. Once your plants have been revived, mist them with Kapow to ensure they stay in good health. The natural ingredients of these products will keep your plants healthy without harming the environment around it!