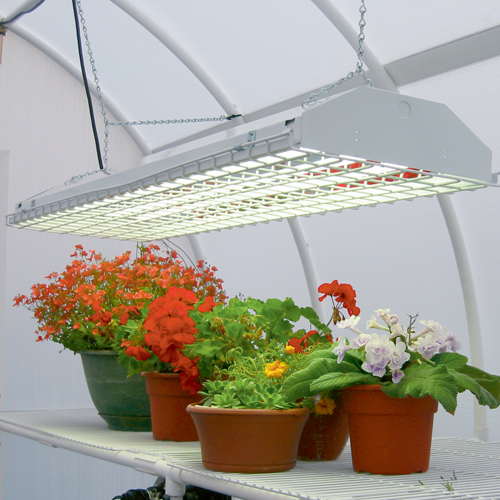 Indoor plants may not get enough natural light and some extra artificial lighting to make sure they are growing as best they can. While some plants need a lot of blue wavelengths, others need a mix of red and blue wavelengths for optimal growth. The best quality lights for your plants may be a little pricy, but they also might not be needed unless you plan to grow a high-production garden indoors.
The Best Lights for Indoor Plants
High-Intensity Lights: High-intensity metal halide lamps produce light in the blue spectrum at the high intensity that plants need in order to grow. High-pressure sodium lamps give off high-intensity light in the red and yellow spectra. Commercial growers use a mixture of metal halide and high-pressure sodium lamps in order to provide enough high-intensity light in all spectra needed. These lights can be quite costly and need a special fixture and ballast.
Light Emitting Diodes: Light-emitting diodes, also called LEDs, are a new source of light for plant growing. These lights tend to be more expensive than other grow light choices, but they are more energy-efficient and pay for themselves in in the long run.
Grow Lights: Grow lights are special fluorescent lights, which are intended to produce both the red and blue wavelengths that plants need in order to grow. These bulbs can be used in a regular fluorescent fixture, either alone or in combination with cool-spectrum fluorescent bulbs. For the best results, these lights should be placed fairly close to the plants.
Combination of Fluorescent Lights: Fluorescent lights offer the right wavelengths for plant growth but fail on intensity. Fluorescent lights should be just fine for plants that grow best in medium or low-light levels, and should be used in a combination of one warm-spectrum bulb along with one to three cool-spectrum lights for the best results. Fluorescent lights should be placed close to the plants. This is because intensity decreases with distance from the light.
The right lighting is helpful when aiming for optimal plant growth, but without protection from plant diseases and pests, you may find your plants looking sickly. To prevent this, you can spray your plants with Pure 3-Way, a fungicide and insecticide made with all-natural ingredients to ensure your plants are happy and healthy.