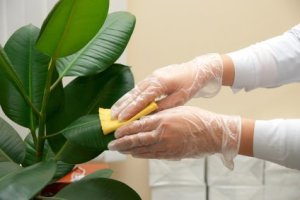 In order for your houseplants to be able to properly absorb light and produce some of their own food, otherwise known as photosynthesis, they absolutely need to have clean leaves. Unlike outdoor plants, houseplants can't be cleaned by wind or rain, so they depend on you for a little help. Cleaning the leaves of your indoor plants is a simple process, you just need to follow these few steps:
How to Clean Your Houseplants in 3 Easy Steps
Spray your plants somewhat frequently with a plant mister to help keep the level of dust to a minimum. If you can, try and use rain water in the mister. Otherwise, distilled water will do just fine. However, avoid using tap water – the chemicals don't go well with your plants, especially if your plants are experiencing new growth. Plants with smooth leaves should receive a light mist of water on the leaves about three times a week. Make sure you show the undersides of the leaves some love, too!
Plants with hairy leaves should be wiped down with a cotton swab or soft cloth that is slightly damp with a bit of rainwater or room temperature distilled water. You can even use a soft bristled toothbrush if you make sure you are gentle. Be sure to support the leaves as you wipe them down by placing your hand under the leaf.
For large, non-hairy leaves, a nice sponge bath every once in a while should do the trick. Use a damp cloth to wipe down plants with large leaves and, as mentioned earlier, don't forget to sponge off the underbelly of the leaves, too. This will help prevent any pests that may otherwise take over your plants. However, if you do find little critters infesting your poor houseplant, spray your plant with Kapow, an organic insecticide that uses all-natural ingredients, such as lemongrass oil, to knock out the bugs and keep your plant healthy!