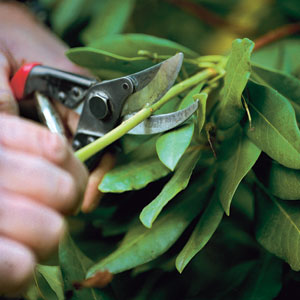 Right now is the best time to get things done in your garden. The air is getting cooler and it's time to take care of those old summer plants and prep for the next season. Here are some tips to help you get your fall garden nice and healthy for springtime.
Fall Gardening Tips
Clean Up. Many diseases can overwinter in the stems of perennials and the fallen leaves of deciduous trees and shrubs. Rake up these leaves and trim the diseased stems so that surrounding or new plants don't become infected.
Water. The survival of woody plants during the winter depends on how much moisture is in the soil in the fall. Apply water to ensure that woody plants have taken up adequate amounts of moisture to avoid stress related water loss. When soils are dry in early fall, apply water once a week through October.
Fertilize. Many believe that fertilizing in the fall will encourage late season growth, which can lead to winter damage. However, studies have shown that the nutrients that support spring growth in woody plants were taken up in the previous year and stored over winter.
Mulch. Fall is a great time to apply mulch to garden beds. By adding a 3-4 inch layer of mulch will buffer plants' root systems from fluctuating temperatures and moisture levels throughout the fall and winter. Additionally it will help suppress weed growth.
Prune. Fall is great for pruning deciduous trees and shrubs because after the leaves have fallen it's easier to see which limbs need to be pruned. You should also prune in the fall because insects and diseases are far less prevalent this time of year.
Plant. Planting trees and shrubs in the fall will give them a chance to begin spreading roots in the moist soil. The cooler soil and air temperatures along with more rainfall will take away the shock that plants suffer during the planting process.
Even after paying close attention to your plants and showing them plenty of care, in some cases they may fall victim to pests, mold or mildew. If this is the case, use Pure 3-Way to treat pest problems and Kapow to rid your plants of mold and mildew. These products use natural ingredients, including lemongrass oil, to keep your plants thriving. Once treated, apply Green Thumb to your plants regularly, keeping the problems away.