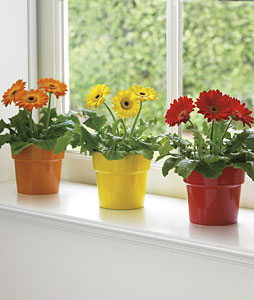 A great way to brighten up your home with color and life is to fill it with houseplants. To ensure that you have the healthiest and happiest plants in your home, just follow these eight easy tips.
 7 Tips for Indoor Gardening
Position your plants sensibly. Experiment with different places in your house to place your plants and leave them where they seem to thrive the most.
Sun-lovers prefer to face north. Plants that love sun should be placed in a window facing north or northeast. Be sure to check soil moisture levels on a regular basis and examine the leaves to make sure they aren't burned. If you observe signs of withering, move the plant to the middle of the room away from the window.
Place plants in the bathroom. Ferns and other plants that love moisture thrive in rooms like bathrooms where they are misted regularly.
Water from the bottom. If you pour water right onto the soil, it may flood or the water may not even get to the roots of the plant.Instead, water plants from the bottom by setting them in a dish filled with water. Make sure your pots have holes in the bottom so that the water can be absorbed.
Steer clear of drafts. Place your plants in spaces away from draughty areas, ducted heat, or air-conditioning units.
Avoid over-watering. Water your plants as needed – meaning only when the potting mix feels dry. By over-watering, you are potentially leading your plant to die. You can check if your plant needs to be watered by pushing your finger into the soil. Keep in mind that plants will most likely need to be watered more often in the hot, dry months of summer.
Mist your plants. Most indoor plants love to be misted with water. Make sure that the water you mist is room temperature. This is an especially good method when plants are in a home with central air conditioning because the air can get very dry.
Now that your plants are thriving and bringing a fresh, new feeling to your indoor gardening home, be sure that they keep growing healthily by applying Green Thumb regularly. Green Thumb prevents your plants from being attacked by pests, mold, and mildew. However, if your plants do fall victim to these, treat the insect problem with Kapow and for mold or mildew treat using Pure 3-Way. These products use natural ingredients, including lemongrass oil, to safely protect your plants.